LuminaSounds is Igneous Flames' self release imprint / label.
I keep a Blog here: https://igneousflame.wordpress.com/ which is more current than this site. However, of late, I have been blogging very infrequently and have been more active on Instagram:
https://www.instagram.com/igneous_flame/
News
10/3/23
'Vee-lah' new album now released:
'Vee-lah' is an ultra-minimal, tonal dronescape, subtley shifting over a 30 minute duration. It occupies the low frequency end of the spectrum exclusively (sub 3KHz)
I often hear Tawny owls where I live and I think their 'hootings' are a beautiful and haunting sound. Their calls are selectively interleaved on the 'Strix mix' track, which is a deeper version of 'Vee-lah'.
The Tawny owl recordings on 'Strix mix' are by 'Benboncan'
freesound.org/people/Benboncan/packs/4108/
(I used the 'Tawny Owls 2' recording, which I processed)
18/1/23
'Cobra' new album now released, featuring kati Astraeir
https://igneousflame.bandcamp.com/album/cobra
31/8/22
Apologies for this site being woefully out of date, I am still working on my music and plan to have a release / releases by the end of the year !
2021 News
9/5/21
Michael Foster over at AmbientVisions has interviewed me regarding the motivations and making behind my 'Lapiz' album. Thanks Michael !
"AV: How has the current state of the world during the pandemic affected your creativity in regards to music?
PK: I feel very fortunate to have my work to focus myself with through these times. Being highly sensitive, I have picked up on the huge thought-form of fear that has been created, so I started to go inside myself more so to deal it…"
http://ambientvisions.com/lapizpetekelly.htm
29/03/21
'Lapiz' new album now released
https://igneousflame.bandcamp.com/album/lapiz
Currently just available on my Bandcamp page, but will be up on the streaming sites soon:
2020 News
04/11/20
'Swarm' 'single' now released
https://igneousflame.bandcamp.com/track/swarm
'Swarm' was created from multiple evolving layers of e-bow / sustainer guitar drone notes – a swarm of drones.
The notes make up a chordal tonal centre – a low B root * / stacked 5ths chord.
Regarding the notes themselves, I played multiple instances of the same notes with vibrato to create single note 'ensembles'. I also used notes without vibrato as well, to contrast.
On 'Swarm' I was experimenting with the differing position dependent harmonic overtones that you can get from the e-bow (relative to the pickup) and the harmonic mode options on the sustainer guitar.
(* I used a 7 string sustainer guitar and 5 string bass for the Low B)
14/6/20
'Ki' and 'Speed of Life' now released (Please see news page for more details)
2019 news

17/12/19
Argon new album released !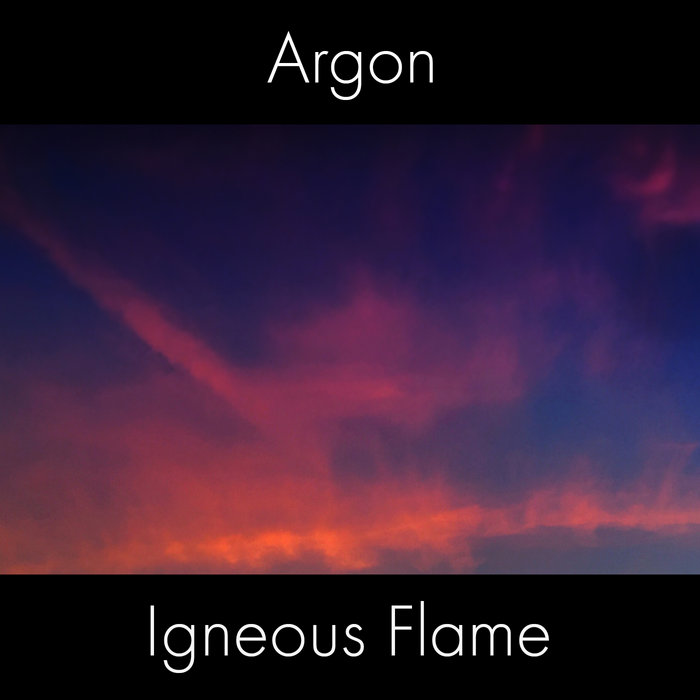 Bandcamp link and the usual streaming / download sites:
https://igneousflame.bandcamp.com/album/argon
https://music.apple.com/us/album/argon/1492188182
22/7/19
Indigo new album released !
A selection of tracks created from processed generative sources.
Bandcamp link, also up on all the streaming / download sites:
https://igneousflame.bandcamp.com/album/indigo
12/8/17
'Sylvi' new album released !
This is the new home for LuminaSounds, which is the label Igneous Flame uses to release his material. The original LuminaSounds site is still here (currently):
http://www.petekelly.eclipse.co.uk/luminasounds/
This site in intended to be more of an archive than this current one.
26/1/17
'Ocean Sighs' reviewed by John Shanahan at Hypnagogue
Extract:
'Ocean Sighs is a bit of a gamble. First, it's a deviation from what Igneous Flame listeners might expect. But Pete Kelly's never been one to sit still.'
Full review in the 'News' section and here:
New Igneous Flame album (1/12/16):
'Moonglow' new Igneous Flame album now released:
Igneous Flame album now released (26/09/16):
'Ocean Sighs' Igneous Flame album now released:
'Ocean Sighs' is a selection of 'ambient seascapes' which incorporate tonal drone textures and harmonic vocalisations, set against a continuous ebb and flow of treated ocean sounds. The two elements were equally considered in the construction of the tracks and are intended to be complimentary.
https://igneousflame.bandcamp.com/album/ocean-sighs